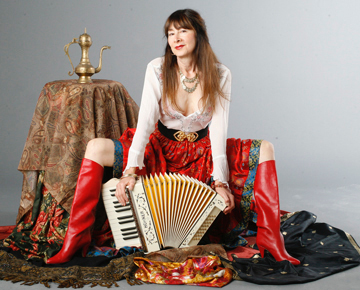 HIRE AN ACCORDIONIST
Musicians' fees vary according to several factors such as playing time from start to finish, number of musicians contracted, driving time/distance to the site, parking/unloading situation, complexity of any sound systems brought in for you, whether or not there needs to be a special rehearsal, etc.
As a booking agent with Folkloric Productions I know and can connect you with many other excellent accordionists, musicians, bands, dance shows, and even DJs.
Give me a call and I will be happy to answer your questions, give you more information, availability, fee quotes, ideas and suggestions, and to arrange for you to hear demos or come to a live audition.
I would love to play for your event! Most of my engagements are weddings, receptions, parties, theme fairs, and corporate events. I also play for festivals, concerts, and club gigs -- as a soloist or with some of the musicians. I perform with vocalists, violin, clarinet, guitar, mandolin, oud, string bass, hammered dulcimer, percussion, flute, the tuba in the polka band, or the trombone in the klezmer group. I can really let loose playing the accordion -- when I pick it up anything can happen! I love the way the music plays me, extending out through the accordion, how its energy comes up from the earth, through my body, into my arms and down into my hands, into the mechanism of my instrument to radiate as harmonious sound, sweet and mellow, or exciting and wild. It all moves me deeply. If I am transformed by it, I know my listeners will be as well. If I am having fun, you will have a ball!
I have many accordions of different sizes and from various eras, some with rhinestones and flower designs on them. Some are antique and have beautiful old world sounding voices. Others are more modern and handle like sports cars.
I very much enjoy performing, jamming, teaching and sharing my music. The music/dance camps and international music festivals are a blast! I feel totally blessed that playing music is such a fulfilling part of my life.
There are a number of bands I have been instrumental (pun intended) in starting and leading or co-leading, including the Silver String Macedonian Band, Balkan Pacific, Hatsegana, Panacea, Alpenrose Polka Band, Taverna Greek Band, Tziganya (aka San Francisco Balalaika Orchestra), the Good Times Ceilidh (Irish) Band, and our own klezmer (Jewish) ensembles. I have played with Troika Balalaikas, the Klezmorim, and California Klezmer orchestra. Recently I formed a quartet that plays Israeli and Sephardic music, as yet unnamed.