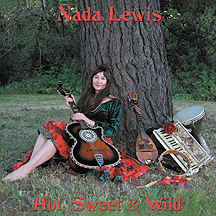 Nada Lewis - Hot, Sweet & Wild - FPCD-101 Released June, 2003 This brand new CD is an exquisite collection of delicious Balkan dances, East European folk tunes, passionate Roma (Gypsy)and spirited Klezmer melodies that will enchant everyone who loves good music. Nada performs her heartful, all-time favorite music on accordions, bouzouki, jawharp, Turkish saz, guitar, giant Egyptian and small Arabic tamborines, tupan & dumbek (percussion), keyboard and voice.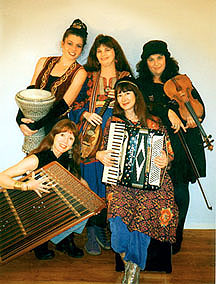 Panacea - Songs and Dance Music of Europe East and West. The beautiful new CD by Balkan/Rom/East European/Israeli ensemble "Panacea" Exotic, beautiful, and wildly playful. Featuring hammered dulcimer, violin, percussion, accordion, haunting polyphonic vocals.

To order, click here.